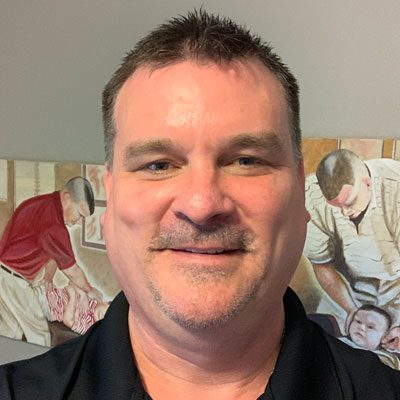 Chiropractor
Jeff Woodruff D.C.
Dr. Jeff has been practicing chiropractic for 20 years. He earned his Doctorate of Chiropractic and Bachelor of Human Anatomy from Logan College in St. Louis, MO, his Masters from the University of South Alabama and a second Bachelor of Science from Springhill College. Body Mind & Spine is his dream come true; being able to incorporate massage therapy, chiropractic, and skin care, all under one roof, with extremely affordable rates. Dr. Jeff is married and has three children. He enjoys deep sea fishing and hunting the elusive whitetail deer.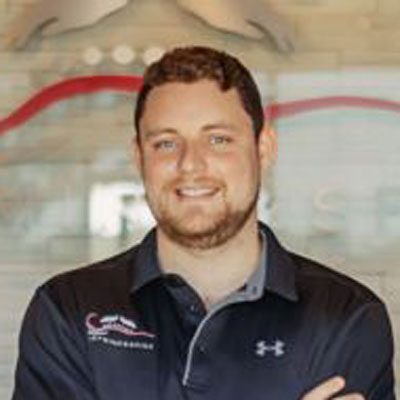 Chiropractor
Nic Brautigam D.C.
Dr. Nic Brautigam, a native of Woodstock, GA, received his Doctor of Chiropractic Degree from Life University in Marietta, GA and his BS in Biology from the University of West Georgia. His desire to become a chiropractor started after a weight lifting injury left him unable to play basketball for his middle school. After sitting out for weeks he was only able to return to the court and play without pain after seeing a chiropractor and receiving his first adjustments.
This inspired him to dedicate his life to sharing the benefits of Chiropractic as an integral part of a healthy lifestyle. In his free time Dr. Brautigam enjoys hiking, lifting weights, going to the beach and watching his beloved Atlanta Braves.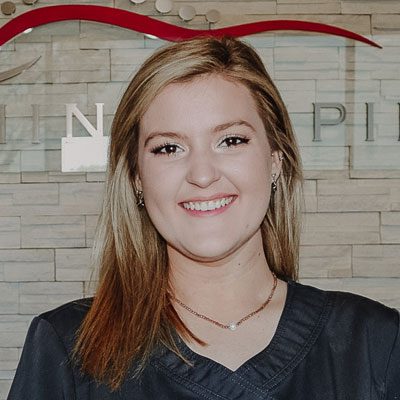 Esthetician #148907
Abigail Caudill
I have always found a good skincare routine to be very meditative and a healing act of self care. Not only did I enjoy a healthy glow, I enjoyed the time alone I spent with myself. I knew I wanted to provide this type of peace for others as well. In the fall of 2019, I graduated from Blue Cliff Career College. 
During my time as a student, I learned that being an Esthetician was more than just 'washing your face'. I find the science behind skincare and product ingredients to be fascinating. Learning about all the types of facials (Microdermabrasion, Dermaplanning, Chemical Peels, Microneedling, etc.) really peaked my interest and persuaded me to pursue a career involving more medical cosmetic treatments.
Being an Esthetician allows me to create a multi level sensory experience for my clients. Each facial treatment is customized to target any skin concerns or goals you may have. I want all of my patients to feel refreshed and more confident than when they come in. I can't wait to meet all your beautiful faces and watch the progress begin!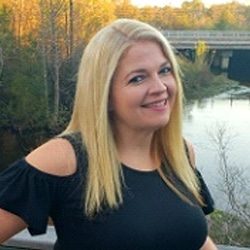 Licensed Massage Therapist #5330
Julie Duclos
Julie is a Fairhope High School graduate of 2000. She graduated from Blue Cliff College in 2019 with a major in Massage Therapy.
Julie's love of fitness inspired her to show others how to love themselves through proper health and wellness, nutrition, and exercise. First responders have been a large influence in her life. 
Their dedication to others is what 'drives her to help others' as well. With her love of fitness, she also discovered a love of races; specifically, obstacle course races. It started with Mobile SWAT Team's 'Just the Mud of it' and, just recently, she completed her 2nd Spartan Race Trifecta.
She is skilled in Swedish Massage, Deep Tissue Massage, Reflexology massage. She loves practicing sports massage, and stretching techniques.
Licensed Massage Therapist #5338
Rebecca Money
Rebecca Money is a graduate of Blue Cliff Career College and has been practicing massage therapy in mobile since early 2019. She helps people dealing with everyday stress and muscle tension by helping them achieve relaxation and overall comfort. She is very focused on her clients individual needs and her work is both specific and flowing.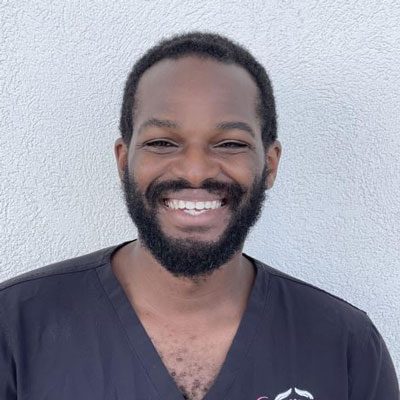 Licensed Massage Therapist #4953
Anthony "Tony" Chima
Hi guys and gals! My name is Anthony Chima and I work as a massage therapist here at Body Mind and Spine. My specialty is lymphatic massage therapy and I would also like to dive deeper into reflexology. I went Blue Cliff College and graduated in 2012. I use therapeutic arts to enrich the body, mind, and spine in every session I perform. Each session is, and will be customized to each individual person. I look forward to working with you and achieving your overall health goals!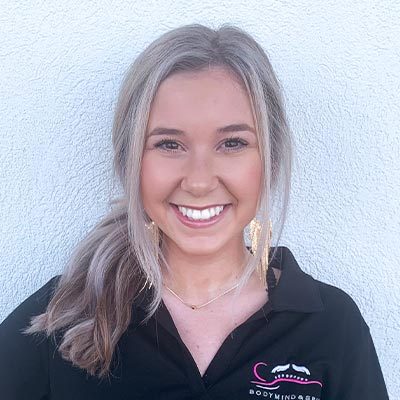 Office Manager
Farrah Bender
Hello everyone, my name is Farrah and I am the office manager here at Body Mind & Spine! I am a graduate of Coastal Alabama and hope to one day pursue a career in children's counseling! My goal working at BMS is to be the first smiling face you see when entering our doors. I look forward to meeting everyone and eventually learning you by name! I am dedicated to providing everyone with the best experience possible!
Licensed Massage Therapist #5355
Mary "Katie" Durden
Katie is a graduate of Blue Cliff Career College and has been practicing massage in Mobile since 2019. She is proficient in Swedish massage, deep tissue massage, trigger point therapy, assisted stretching, and reflexology. Her massages are tailored to each individual client, from pain management, to tension release and relaxation.
Licensed Massage Therapist
Johndy Ngam
Hello there, my name is Johndy, but you may address me as JD. I am one of the many Licensed Massage Therapists currently working at Body Mind and Spine. I previously graduated from Blue Cliff Career College back in 2017, and begun pursuing my professional career in Massage Therapy during 2020.
I am currently trying to blend the paths of both Eastern & Western massage modalities into one fine holistic approach and also adding a focus on the fine structures of the human anatomy while incorporating the overall well-being of Eastern energy into the massage bodywork.
In this journey of mine, I hope to not only be the therapist you can trust and respect, but also to be the external force to help push you further into a better, healthier lifestyle.
Licensed Massage Therapist #2252
Bridgett Smith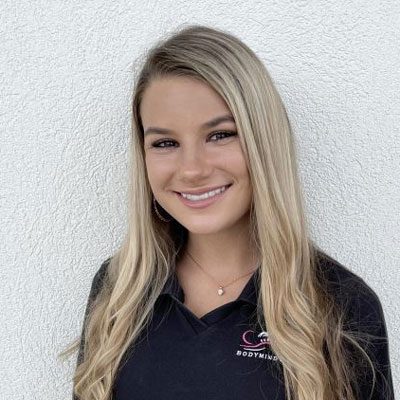 Receptionist
Ashton smith
Hi, my name is Ashton Smith and I am a receptionist here at Body Mind & Spine! I attended Coastal Alabama Community College on a cheerleading scholarship for 2 years. I hope everyone that comes to Body Mind & Spine feels welcomed and leaves with a smile! I truly believe BMS is such a fantastic atmosphere to work at and also to come for all of your chiropractic, massage, and skin care needs.
I love meeting everyone, and hope to bring all clients the best experience possible!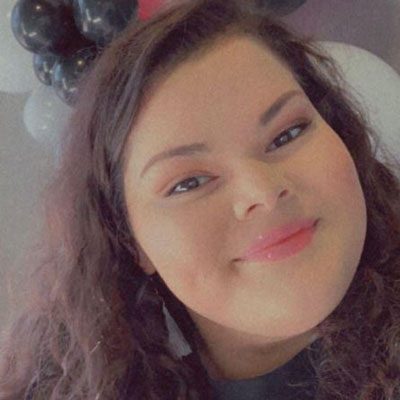 Receptionist
Mallory Snider
My name is Mallory and I am a receptionist at Body Mind and Spine! I attended Coastal Alabama Community College and I have two beautiful little girls. I have a huge interest in healthcare, and I aspire to become a Labor and Delivery nurse. My goal is to watch every person leave with a smile. I look forward to meeting you personally and welcoming you into the BMS family!
OFFICE HOURS
---
Monday
9:00am - 6:00pm
---
Tuesday
9:00am - 6:00pm
---
Wednesday
9:00am - 6:00pm
---
Thursday
9:00am - 6:00pm
---
Friday
9:00am - 6:00pm
---
Saturday
10:00am - 5:00pm
Monday - Saturday
9:00am - 9:00pm